SWL Antenna Distribution System
Copywrite 1997, 2007 - Alan R. Klase - All rights reserved.
---
I have developed a methodology for connecting multiple LF/MF/HF receivers to a single antenna via readily available and inexpensive 75-ohm TV cable. Custom made baluns and splitters provide impedance matching and prevent interaction between receivers. The following drawing shows a representative system. Construction details are given below.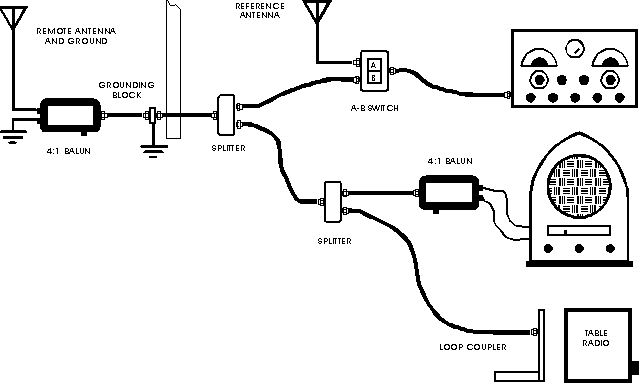 4:1 Balun
Provides matching from random wire antenna to coax.
Also allows separation of antenna ground from building ground to prevent noise pickup.
Grounding Block
Installed at entry point to building to head off lightning.
Standard CATV device
Electrical code calls for connection to an 8-foot ground rod.
Divides signal between two outputs and maintains 75-ohm impedance.
Provides 30dB isolation between outputs.
Broadband: 30KHz to 30MHz.
CATV splitters don't work well below 10MHz.
A/B Switch
In this case, allows comparison of the new antenna to the old "reference" antenna.
Standard CATV device.
Matches 75-ohm cable to old fashioned A-A-G inputs which are usually 300-400 ohms.
Same component as above.
Couples 75-ohm coax to receivers with internal loop antennas, e.g. table radios.