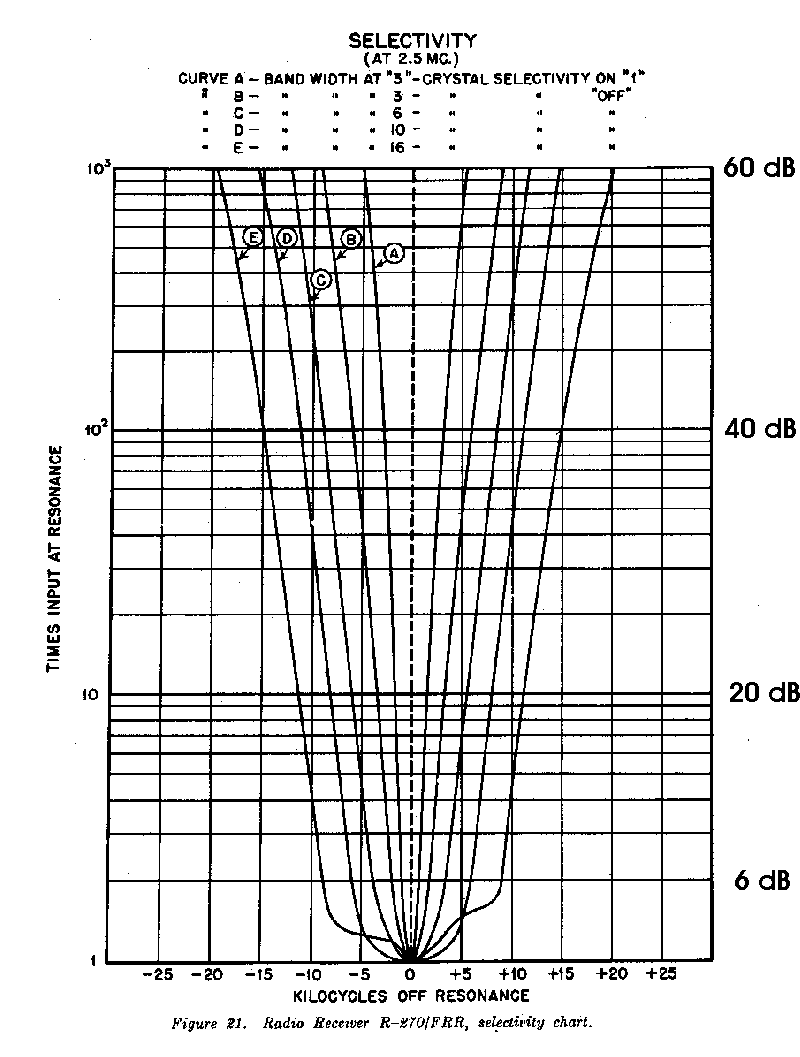 These curves may seem upside-down to 21st century eyes. They reflect the proceedure used to generate them: The receiver, with AVC off, is connected to a calibrated signal generator and output level meter. The generator output is set for a low level, e.g., 10 microvolts, and is tuned for a peak on the output meter. The frequency is recorded as the center of the passband, and the level is noted as a reference. As the generator is tuned away from the center frequency, the question becomes: How much must the generator output be increased to reach the reference level on the output meter?




Here is a family of selectivity curves for an SP-200 receiver. ("Right Click" and "View Image" for a clearer look.) They show the selectivity for four positions of the "

BAND WIDTH

" control. The front-panel bandwidth scale indicates the approximate half-voltage (-6 dB) bandwidth of the IF amplifier. The fifth curve, "A", is for the 3 KC bandwidth plus the crystal filter in it's widest position (1).

This chart, not only indicates the broad range of selectivity available to the operator, but also the filter's steep "skirts" that reject nearby unwanted signals. In modern practice we consider the ratio of a filters bandwidth at 6 and 60db attenuation. The Super-Pro's 3:1 "shape factor" is still very respectable today.



High Fidelity



Most communications receivers have a fixed IF bandwith of approximately 4-6 KHz to provide maximum intelligibility of speech, especially under difficult conditions. This limits the high-frequency audio response to 2-3 KHz. Because one of the target markets for the Super-Pro was broadcast monitoring and network rebroadcast, it was provided with this variable bandwith feature. When conditions are good, the passband can be opened up to enjoy the music. Conversely, the IF can be tightened up to a very restriced 3 KHz to "dig out" voice signals when the going gets tough..

This hi-fi capability is reinforced by a very clean sounding 14-watt audio amplifier using push-pull triode-connected tubes. It will, indeed, provide room-filling volume. A Super-Pro, connected to a good speaker system, will outperform virtually any AM broadcast receiver ever built.